Mexico - 2006
Once again a quick 2-week trip, this time during my summer vacation. Since Latin America was an unconquered territory for me I decided to start exploring the area of Yucatan, mostly because of the cheap flights, interesting history and wide variety of beaches / marine life.
Check out the photo gallery.
Places visited:
Cancun
Cozumel
Tulum
Chichen Itza
Merida
Celestun
Holbox
In general this area proved to be pretty much packed with tourists (also outside Cancun area) even though it was low season. It was pretty easy to travel since bus connections were very good. It was surprising how few people spoke decent English. The ruins were impressive and food was excellent. The long beaches of Tulum hit my all-time top 10. The trip as a whole was a good one without any major incidents - apart from hurting my foot and visiting a Mexican doctor to get some disinfectants.
11.7.2006 Helsinki - Boston
The flight from Hell... A delay of a couple of hours. A constantly screaming baby sitting next to me. One of the rudest (and oldest) stewardesses ever. As it is a charter flight basically nothing is free. And there was an unexpected stopover in Stockholm.
Luckily in Boston I managed to catch the final (free) shuttle to a nearby after queueing at the immigration for I don't know how long because of some "nationwide computer problem"! So all I could do at the hotel was to start enjoying my 5 hours of well-deserved sleep.
12.7.2006 Boston - Cancun
Don't have much of memories from Boston as I rushed back to the airport as the first thing in the morning. After a couple of hours in the plane or waiting at airports I arrived in Cancun. The first observations were the heat and humidity - somehow it felt considerably warmer than in Asia! I took a bus to downtown and arrived in the main bus station. I checked in at the nearest hotel recommended by LP. I felt quite a bad jet lag but even though I felt like sleeping I decided to some sightseeing first.
The first impressions were not too positive - it was pretty chaotic and somewhat dirty. Some kind of combination of big Spanish cities / resorts with a flavour of Asian madness. After some wandering in the downtown area I took a bus to "zona hotelera" which is the main resort area on a narrow stretch of beach. The beach was very long and fairly good - otherwise the area was as expected an Americanized version of Mediterranean beach resorts. I tried to locate the local museum and the main tourist information booth but they seemed to have moved elsewhere.
I returned to downtown and had my first proper Mexican dish - an excellent set of enchilladas. After that it was time to get some sleep...
13.7.2006 Cancun - Cozumel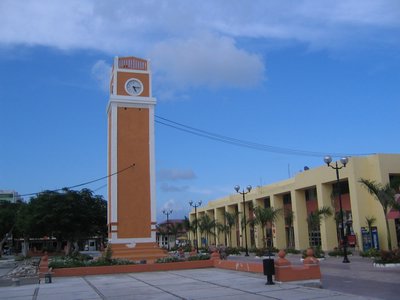 I must have slept for at least 12 hours so I felt really full of energy in the morning... I walked to bus stations to check out the connections to other locations and to have some breakfast (sort of tacos from a local fast food chain). I decided to head south - there seemed to be frequent connections to Playa del Carmen. It did not take too long to get there and the ferry to the island of Cozumel was just about to leave. Another half an hour and the ferry docked at the capital of the island. This place was slightly less crowded than the previous destinations but still there were lots of tourists around. I checked in at a hotel where the friendly clerk tried to sell me everything from cars to scuba diving trips.
I realized that there were no decent beaches in the surrounding area and as it was already afternoon I decided to spend the rest of the day at Hotel Barracuda's "Beach Bar". It was quite a pleasant place by the sea with an artificial stretch of beach and a pool area for the paying customers. Not a bad place to have some Corona and listen to soulful house from my brand new MP3 player.
After dark I spent some time in the downtown area (not much to see apart from the numerous souvenir shops) and had some dinner. Still quite a pleasant small town even though I would prefer something much more laidback. I decided to rent a bicycle in the morning to explore the island and its beaches tomorrow.
14.7.2006 Cozumel
I slept really well and got up early. The morning in the downtown area was quite relaxed as everybody was getting prepared for the daily dose of cruise ship tourists. After a having a quick breakfast in Burger King I rented a bicycle. I started cycling to the south to explore the beaches further out there. It was really comfortable to cycle as the island was basically flat. Even though there was quite a lot of traffic it felt quite safe as the road was really wide and in good condition.
My first stop was place called Parque Chankanaab. The admission fee was expensive ($10) and I was expecting something really special. I was disappointed as in addition to the fairly good beach there was not much else to see (except a fake lagoon, fake Mayan huts and a huge construction yard). Anyway I decided to enjoy the sunshine for a couple of hours.
I continued further south. There was not much to be seen apart from entrances of big resorts until I reached the beach of San Fransisco. Shortly after getting off my bike a very unpleasant incident happened. There was some sort of renovation in progress and I decided to take a short cut to the beach across the wasteland. Somehow I managed to trip over a rusty bar of metal attached to a concrete wall - and suddenly I realized that I had a 5cm - long wound in my left foot. It was not too deep but was bleeding quite a lot. I made a makeshift bandage from some paper and decided to head back to town.
The wound did not look that bad but I was still worried of getting an infection. I had also booked a snorkeling tour for tomorrow - swimming all the day with my wounded foot may not be the best idea? Anyway I tried forget the incident and enjoyed huge and tasty fajitas in a small restaurant near the hotel.
15.7.2006 Cozumel - Tulum

I did not sleep too well as I kept thinking about the wound. As it was not feeling really bad I decided to go snorkeling as planned. I had slept quite a lot recently so I did not really feel tired. The trip turned out to be really professionally organized - in addition to me there were several scuba divers around. I had a private guide that showed me the best spots around from three locations. The underwater life was fascinating as usual with the colourful fish and wide variety of coral. I spotted several sea turtles (for the first time ever!) and an interesting fish species moving sideways. Anyway a good trip even though I started to feel really tired in the afternoon.
There was an American guy called Jamie on the trip that had also recently wounded his foot on a diving trip. He said that there was a hospital in Playa del Carmen where he had gotten disinfectants and a tetanus shot. That sounded like a good idea as I had forgotten to check whether my tetanus vaccination was still valid.
As we got back to town I decided to continue back to mainland and bought a ferry ticket to Playa del Carmen. I had some time to check out the local museum - a really small and "sympathetic" collection of underwater artefacts and coral. PdC proved to be the most unpleasant place so far - it was really packed with boozing tourists and lots of locals as well. I located the hospital where nobody spoke proper English but I managed to get my wound cleaned and the tetanus shot (after buying the medicine from a nearby drug store). I felt really tired but I still decided to continue a little bit further to Tulum. After an hour's bus ride I arrived in the pleasant small town that some kind of local carnival going on. I was too tired to watch the dancers and other show artists so I booked a cheap hotel (M$ 220) and fell to sleep immediately.
16.7.2006 Tulum

I slept pretty well even though the hotel room was terribly hot and noisy. Additionally the ceiling fan looked like that it was about to fall down at any moment. I spent some time in the "downtown" and enjoyed an omelette and some fresh mango juice for breakfast. Then it was time to take the backpack again and hit the road. Taxi seemed to be the only alternative for getting to the beach area and I asked the driver to take me a random location picked from LP. It proved to be a very pleasant location with a beautiful beach. I took a 400 M$ cabana which reminded a little bit of the bamboo bungalows in Thailand with its stilts and mosquito nets. There was no electricity (and obviously no fan) so I was a little bit worried of getting sleep.
I spent a couple of hours on the nearby beach - beautiful but bad for swimming because of the big waves. As the heat was not that bad anymore in the afternoon I decided to start the historical part of the trip by visiting the Tulum ruins. I though that they were just a 15-minute walk away but soon I realized that it was actually a walk of 5 km to get there. I decided to send some feedback to LP of the vague Tulum chapter. It actually took almost one hour to get to the ruins and as it was still pretty hot I was not feeling too well when I reached my destination.
For some reason there was no admission fee. As expected the ruins were not that impressive (ie. they were badly eroded) but the setting and scenery were gorgeous. There were lots of people and many local families had come to the nearby beach for swimming. As there was no shelter from the heat I started to feel somewhat tired and decided to take a taxi back to the cabana. The driver was madman but I got back unharmed. I spent the rest of day testing the hammock on the cabana's terrace (excellent!) and had dinner at "village's" restaurant. They had also a generator that enabled me to charge my MP3 player. After dark I listened for the first time to the brand new Cafe del Mar compilation as I was lying in the hammock watching the stars. As expected once again a quality compilation (13th in the series!)
17.7.2006 Tulum
Time for the do nothing day. As the location was really a pleasant one I decided to stay for another day and night without any major plans (expect beach life, reading a book and listening to music). I spent the morning on the nearby beach but suddenly lots of noisy (and rude) French kids came out of nowhere and populated the surroundings. I quickly exited the beach and continued north for a kilometre where I found a gorgeous unpopulated stretch of sand that continued for kilometres after kilometres. There were some quiet beach bars that offered comfortable sunbeds. It was also an excellent place to swim with its calm waters.
Later I returned to cabana to continue chilling out in the hammock. Not much of activities apart from having a chicken burrito later in the evening. A perfect day.
18.7.2006 Tulum - Coba - Piste

Time to get busy... Even though staying up late (by watching the stars in the hammock) I woke up early. After a quick breakfast I took a bus to the village of Coba. It was a really small and remote place - the only reason to visit it seems to be the nearby ruins in the middle of jungle. The initial impression was not amazing as the ruins were really badly eroded. Anyway I walked all the way to the main pyramid "Nohoch Mul" which proved to be worth the sweaty walk. The pyramid was 42m high and the view from the top was awesome. The place is not for the faint hearted as climbing to the top is quite an effort and there are no safety rails (just an old rope).
I returned to Coba village to have lunch (a very good one indeed). There was not much to be seen except the wild crocodiles in the nearby lake! Soon it was time for the first tropical rain during my trip - as a result I managed to get quite a lot of water in my backpack. I spent the rest of the day sitting in bus - first to Valladolid and then to village called Piste next to Chichen Itza. In Piste the hotels were really terrible even to my tastes - the three first places were so rundown and dirty that I could but walk away speechless. I ended up in an overpriced place called Stardust Inn - in addition to me there seemed to be only one room booked. Hope it won't rain tomorrow when I'm visiting Chichen Itza!

19.7.2006 Piste - Chichen Itza - Merida

Today it was the time for the much anticipated Chichen Itza tour. As the area was just two kilometres away getting there was easy. I started my tour early in the morning to avoid the bus tours arriving closer to midday. That seemed to be a good strategy as the crowds were quite moderate in the morning.

The first thing to notice was the enormous amount of vendors selling souvenirs. The second impression first the striking figure of the main pyramid. It was even more massive than the one in Coba (even though not that tall). In general all the buildings were in pretty good shape compared to the previous locations. The area was really huge and I'm not quite sure whether I visited all the spots during my 3-hour visit. The highlights were the big hall with pillars and the platform with skulls. For some reason it was not possible to climb to the top of the big pyramid. The engravings were amazing but often badly eroded.

As the heat and the crowds started increasing in the afternoon I decided to return to Piste. Chichen Itza was sure an experience even though not as amazing as Angkor Wat. Anyway recommended for everybody interested in ancient temples. Before leaving I bought a small Maya statue from one of the vendors. From Piste I took the first bus to Merida. It was the biggest city during my trip (about 700.000 people) and as expected it turned out to be quite chaotic and packed with people and traffic. I checked in at a strange hotel that was a combination of art gallery and hotel. I spent some time exploring the city center but I soon got bored of the hassle and went to an Internet cafe to read the latest news instead.

20.7.2006 Merida - Celestun
I decided to leave Merida behind. I walked through the city to the Noreste bus terminal. The traffic was even worse than yesterday but I found the terminal easily. The bus was leaving in half an hour so I soon started the slow journey through small villages and unpopulated areas. I noticed that I was feeling somewhat cold - it was hard to believe that I had caught a flu but that seemed to be the case.

Celestun was a relaxed and somewhat genuinely Mexican small village with few tourists. The hotel was a bargain as there was a balcony with sea view. Because of the flu I felt really tired and spent most of the afternoon in my room lying under the ceiling fan. The main attraction in Celestun is taking a boat trip to watch the flamingos that populate the nearby bay area. I decided to leave that activity for tomorrow. As I was feeling better in the evening I went to the beach to check out the cloudy sunset. As it became dark there were even fewer activities - the beach bars and restaurants closed quite early and the village became more or less deserted. I also decided to go to bed early. Hope sleeping properly helps to kill the flu!

21.7.2006 Celestun - Cancun

Another hot and humid morning... I was feeling considerably better and I the hotel early to join a flamingo tour. It seemed that I was too early as the village was still sleeping. After a while a beach bar opened and I had breakfast. I booked the next flamingo tour - I had to wait for a while before the boat was full. The tour started with a lengthy ride along the coastline (not very impressive apart from some birds). The first stop was "petrified forest" were all the trees were dead (because of salt water?). After another half an hour the boat reached the reef area where the flamingos lived. It was quite an impressive sight - especially when taking off from the water. There were at least a hundred of the birds - I took quite a few photos. The final destination was the freshwater pools - a couple of isolated ponds in the middle of mangrove forest. It was also possible to swim in the ponds. Anyway an interesting tour (even though somewhat expensive - 150M$).
I spent some time in Celestun before catching a bus to Merida. My plan was to continue directly to Cancun but as the buses were sold out I had to wait in Merida for a couple of hours. Not much to do apart from eating fajitas and hanging out in an Internet cafe. The four-hour bus trip was surprisingly pleasant one - with two American action movies and a book kept me busy. In Cancun all the cheaper hotels near the bus station were fully booked so I had to book the most expensive hotel during my trip so far (M$ 550). As it was already midnight I went straight to bed.
22.7.2006 Cancun - Isla Holbox
Don't believe the Internet. My intention was to catch the first morning bus to Isla Holbox (or Chiquila actually). I checked the schedule from Internet yesterday and the bus should have left Cancun at 8.00. As my hotel was just next to bus station I did not wake up before 7.30. I was at the bus station in five minutes but soon I realized that the queues to the ticket booth were really long. When I finally reached the booth I was told that the bus had actually left at 7.45. And I also realized that my watch was 5 minutes late.
The next bus seemed leave at 12.40. I decided to go to the beach to read a book fo a couple of hours. As I returned I went directly to the "Salidas" (departures) department of the bus station. I showed my ticket to the lady at the gate and she just nodded. After half an hour I was starting to wonder about the whereabouts of my bus - even though it would not be the first time they are late. Suddenly I realized that I was sitting at the wrong end of the bus station - the company that I was supposed to use had its own departure lounge elsewhere!
Obviously I had missed another bus. Fortunately I managed to change the ticket and the last bus was leaving in an hour. This time the company was a smaller one called Noreste. This was something completely different to the modern buses of the other companies - the bus I was going to ride was at least 20 years old, in the windshield there was a big sticker with the letters "Love" and inside there was lots of Jesus figurines and other religious pieces of art! Of course there was no airconditioning so the bus had all the windows open in true Asian style. The bald "assistant" of the driver also had an interesting habit of throwing all the litter out of windows!
It was quite a long ride before I arrived in the small village of Chiquila (in the middle of nowhere). After a short ferry trip I arrived in the island which seemed really laidback (only few cars, dirt roads...). I booked a room at a nice hotel by the sea run by a friendly Italian guy. It was not yet high season but still quite a few people around.
23.7.2006 Isla Holbox

I slept well and woke up late in the morning. I had no special plans for the day but I decided to check out the northern beach area. It was a slight disappointment as there was constant traffic consisting of golf carts on the beach (yes - that's the main method of transportation here!). The heat was rather bad and there was no place to hide from the sun. There were numerous resorts alongside the coastline before I reached the end of the civilized part of the beach. The last thing on the beach was a deserted and completely destroyed resort - the feeling was quite eerie there. After a while headed back and found a decent spot to swim near my hotel.
In general Holbox is a very pleasant place to stay but the number of golf carts is annoying. And driving on the beach should be strictly forbidden. In the evening there is quite of people in the downtown area so it is not quite as laidback as in Tulum or Chetumal.
I spent the afternoon reading a book (a decent one for a chance) on the beach or in my room under the fan. I had yesterday spotted a restaurant that seemed to serve really tasty-looking fish dishes so I decided to give it a try. It proved to be an excellent choice as the food was really good and the prices were more than reasonable (M$ 50). I thought about booking a whale shark watching trip for tomorrow but the prices were really high ($80) and the whole concept sounded a little bit suspicious (Jamie that I met in Cozumel told that the sharks are equipped with radio transmitters to make sure that they can be located!). Instead I decided to visit the local Internet cafe that seemed to have a really fast connection (despite the distant location).
24.7.2006 Isla Holbox - Cancun
I woke up at around nine. There was not much to do in the morning - my only objective was to catch the one o'clock ferry and then to catch the only bus from Chiquila to Cancun. Everything went smoothly as planned and I had a sweaty bus ride to Cancun as the bus was completely full. I booked once again a new hotel in Cancun (this time a cheap place called "Las Palmas"). I thought about doing some shopping (for example new shoes). I did not quite find any decent shops in the surrounding area so I soon got bored of searching.
Instead I decided to have my "final meal" in Mexico. There seemed to be lots places targeted for the tourists around and I decided to have a little bit more classy dinner tonight. I found a decent-looking steak restaurant which proved to be a perfect choice: the service was more than excellent and the portions were the biggest so far. I started with a huge plate of cheese tacos and for main dish I had the enormous "House speciality" that was such a big plate of meat that I just could not digest it all. I returned to hotel with some walking difficulties and spent rest of the evening reading an interesting book called "Mind that game". Rubbish but still quite entertaining.
In the morning it is time to head to the airport. First I fly to Charlotte in the US, then transfer to a plane to Boston and after that there is still one flight to Helsinki (with a stopover in Stockholm). Hope it is not as painful as the other way round!
Back to
www.acidkainen.net
home page